RTE Gujarat Admission 2021-22 Online Application Form / School List / Documents / Admit Card
Gujarat RTE Admission Form 2021 @orpgujarat.com
RTE Gujarat Admission 2021-22 Application Form- The applications will be invited by the Directorate of Primary Education for the admissions into primary classes Std 1 to 8. Children of age group born between 1 June 2014 to 31 May 2015 will be considered for admission. Along with that, the child must belong to one of the categories:- SC/ST with Parent's Annual Income up to 2 Lakh, OBC with Parent's Annual Income up to 1 Lakh, and GEN Category with Annual Income up to 68,000. The Children not satisfying this criterion will not be administered and the list of the rejected forms will be displayed on the website with the reason for rejection.
Organization: Government of Gujarat, Right to Education
Category: RTE Admission 2020-21
Admission Date Online Registration: After 25th June 2021
Last Date of Online Registration: 05th July 2021
RTE Gujarat Admission First Round 2021: 15/07/2021
Official Website: rte.orpgujarat.com
RTE Gujarat Admission 2021-2022: The Government of Gujarat has released the RTE Gujarat Online Admission Notification and admission schedule for the year 2021. RTE class 1 registration began on 19th August and will continue till 29th August, on the official website – rte.orpgujarat.com. This article has all the essential details regarding RTE Admission 2021-22. Read on to know more
RTE Gujarat 2021 – Admission Online Form
The application form filling for Gujarat Right to Education RTE Application Form 2021 can be filled in online mode. You can read here about the application process, required documents to be attached along with the application form & Schedules are given below.
RTE Gujarat Admission 2021-22
RTE Admission 2021 Required Documents List
Address Proof : Aadhaar Card/ Passport/ Electricity Bill/ Water Bill/ Election Card/ Driving Licence/ Ration Card/ Notarised Rent Agreement
Parent's Caste Certificate: Mamlatdar, Social Welfare Officer, Taluka Development Officer or Competent Officer Certificate
Birth Certificate: Gram Panchayat, Nagar Palika, Maha Nagar Palika Birth Certificate/ Hospital Register Certificate/Anganvadi, Balvadi register Certificate/ Parent or Guardian's Notarized Affidavit.
Photograph: Passport size color photograph.
Parent's Income Certificate: In case of old income certificate: Mamlatdar, Taluka Development Officer or Competent Officer Certificate. For New income certificate: only the E-Dhara center income certificate will be valid.
BPL Card: Parents who are in 0-20 score (points) of BPL category should get the certificates from the following offices: (1)For Rural area: Certificate of Taluka Development Officer or Director, District Rural Development Agency. (2)For Urban area: (a)For Municipal Corporation: Deputy Municipal commissioner or competent officer authorized by the municipal corporation. (b)For Municipality: Certificate of Chief Officer of Municipality. (c)For Notified area: Certificate of Chief Executive Officer or Administrative Officer. In all those urban(city) areas, where the beneficiary list is unavailable for the BPL 0 to 20 score, the beneficiary will have to produce a BPL certificate specifying the BPL no under the BPL list issued by a competent authority. BPL ration card is not valid proof for the BPL category.
Parent's Aadhar Card: Copy of Parent's Aadhar Card and Student Baths.
Bank Pass Book: Child or parent's passbook copy otherwise Parents Bank Passbook Compulsory.
How to Apply online for RTE Gujarat Admission 2021 online form
Open the RTE Gujarat Official Website i.e. rte.orpgujarat.com
Select Online Form Button the Link to contain Online Application
Read & Provided all the details carefully
Form fill-in 4 Pages, 1st General Details like Name, Addhar card, and occupation.
Second Part Student bank details, Address, and others.
Third Part Address Location with Google Map, and Select your School like you.
Forth Part Confirm Application and note Down your RTE Application Number.
After Submit an online Application Print out the Application form and Submit neared receiving Center with All necessary documents Copy.
RTE Gujarat Admission 2021-22
Now This Year Gujarat Government New Look and New Website for Online RTE Gujarat Admission 2021 Fill Online Application. Last year fill-up the form at www.rtegujarat.org. RTE Gujarat Admission 2021-22
The admission Form is releasing on 25th June 2021. Gujarat RTE Admission 2021 Fill Online & Check More Details Like RTE eligibility criteria, how to apply, selection process, scholarship details, important dates, official notification of Online Registration given below.
---
Gujarat government invites online applications for RTE Gujarat Admission 2020-21. Subsequently, all the selected students will get a 25% reservation in admission to various schools of Gujarat. Interested candidates can apply online for RTE Admission 2020 in Gujarat through the official website rte.orpgujarat.com. The state govt. will open window for RTE Gujarat 2020 21 admissions under Gujarat Primary Education Act for admissions in primary classes.
Candidates can apply for Gujarat RTE admission 2020-21 in various reputed schools. All the candidates can now apply online at rte.orpgujarat.com for admissions under RTE. To understand the procedure to fill the online application form, please see complete details below. LATEST UPDATE: RTE Gujarat Admissions 2020-21 Online Application will start from 19 August 2020
After the release of official notification, candidates can download RTE Gujarat 2020-21 PDF and also List of Schools. Furthermore, after the application process is over, candidates can download the RTE Gujarat Admit Card 2020. Interested and eligible candidates can fill rte admission form through the official website.
Table of Contents
RTE Gujarat Admission 2020-21 Online applications for Candidates have to fill the application form online through the official website rte.orpgujarat.com of RTE Gujarat Admissions. To have an idea of the application form, see the application form format (FORM A – Sample):-
RTE Admission Form 2020-21 Gujarat
Moreover, candidates can see the entire Instruction Manual to Fill Online Application using the link given below:-
All the parents who want to admit their children in reputed schools in Gujarat state under 25% Reservation Process will have to follow the above-mentioned process. They can apply online for RTE Gujarat Admissions 2020-21 through the official website.
RTE Gujarat 2020-21 Application Form Download PDF
The PDF forms for 2020-21 admissions are not available yet, however here are the direct links to download RTE Gujarat admission application forms of last academic year in PDF format:-RTE Gujarat Admission 2020-21 Advertisement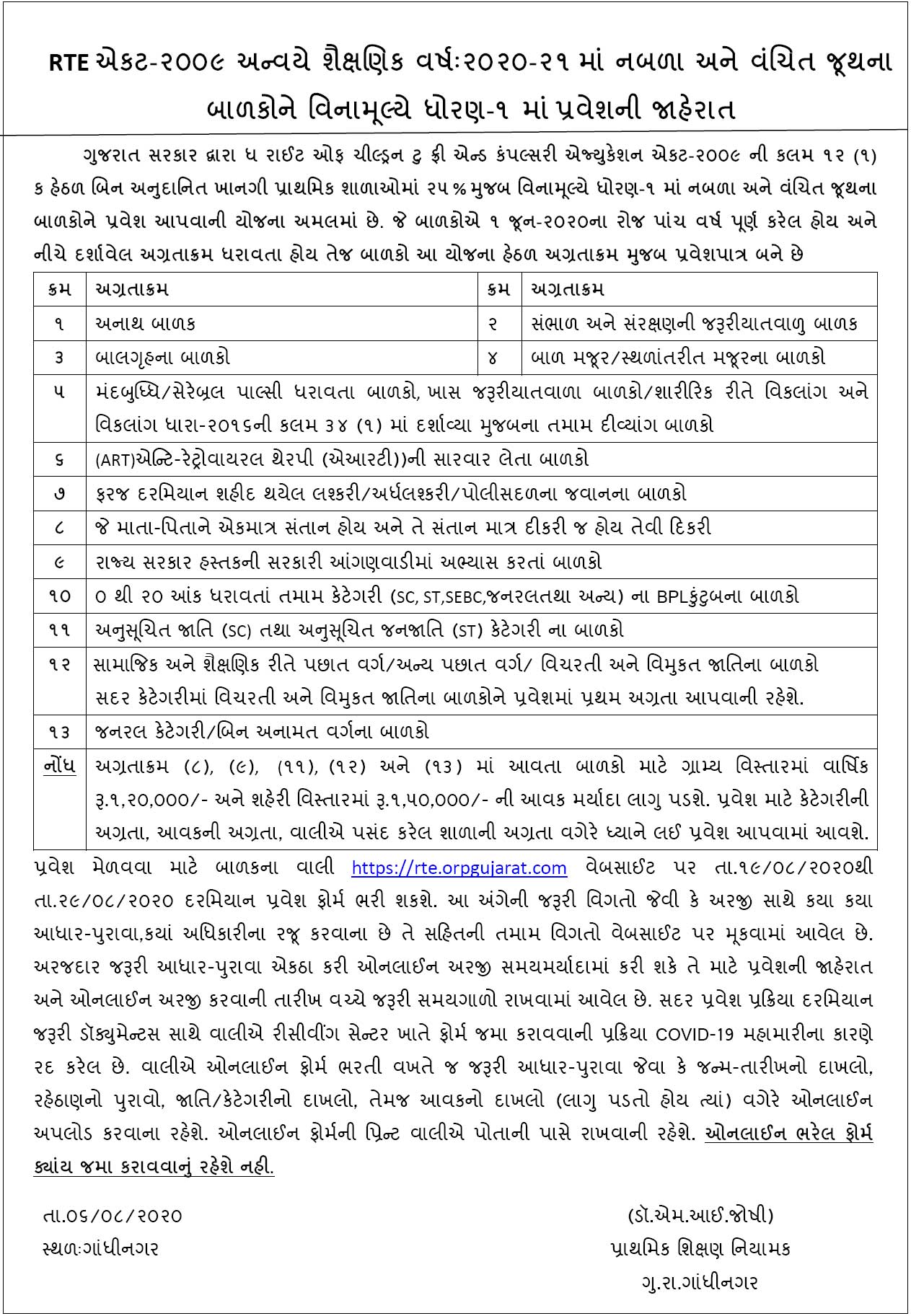 RTE Gujarat Admissions 2020-21 Advertisement Download the RTE Gujarat Admissions 2020-21 Advertisement PDF form this link
RTE Gujarat 2020-21 Schedule
RTE Gujarat Admissions 2020-21 Schedule Download the PDF of RTE Gujarat Admissions 2020-21 Schedule (Time Table) from here
RTE Gujarat Admission 2020-21 List of Documents
RTE Gujarat 2020-21 Admissions School List / Eligibility The direct link to check RTE Gujarat Admission 2020-21 school list is https://rte.orpgujarat.com/Common/SchoolList. The candidates must fulfill the following eligibility criteria to apply online for RTE Gujarat Admission 2020-21 and to get 25% reservation quota in Admissions which is as follows:-
a) SC / ST Candidates – The annual income of the parents of the candidates from all sources must not exceed Rs. 2 Lakh.
b) OBC Candidates – Annual income of the parents of the candidates must not exceed Rs. 1 lakh.
c) General Category – The total income of the parents must not exceed Rs. 68,000 in case of General candidates.
How To Apply For RTE Admission 2020
If you want to Apply for RTE Admission for 2020 You have must follow the below steps :
First You have to Open RTE Admission official govt. website https://rte.orpgujarat.com
you have open this Site Direct from here
You can see various options in this site Like Online Application, Necessary Documents, School List, Application Status, and other options.
you have to select Online Application Option for fill online form.
then Fill all detail in Form correct.
Upload your document properly.
then Print out your application.
RTE Gujarat 2019 Admission Procedure
In order to appear for the admission procedure applicants are instructed to fill out and submit the application form.
Applicants who have successfully filled the application form are instructed to submit the same before the due date and complete the application process.
As the application forms received after the due date will not be considered by the official authority.
Once the application form is successfully submitted the official authority will conduct an online lottery system.
Once the online lottery system is completed the official authority will update the results on the official website of the university for the reference of the applicants.
Applicants need to check the result of the online lottery system with the help of the login credentials.
And on the basis of the lottery system applicants will be able to get admission in the school.
Document Required For RTE ADmission 2020
Proof of Residence ::: Aadhar card / passport / electricity bill / water bill / election card / driving license / ration card / notarized rental agreement
Guardianship Certificate ::: Certificate of Mamlatdar Shri or Social Welfare Officer, Taluka Development Officer or Competent Authority
Birth certificate ::: Gram Panchayat / Nagar Palika, Municipal Corporation, Birth / Hospital Registration Certificate / Anganwadi, Balwadi Registration Certificate / Notarized Affidavit of Parents
Photograph ::: Passport size color photograph
The guardian's voice certificate:: In the case of old income, the certificate of Mamlatdar, Taluka Development Officer, or competent authority will be valid. The new revenue example will be valid only for the e-stream center / public service center.
BPL ::: The guardian falling in the BPL category from 1 to 8 marks will have to submit the example of Taluka Development Officer or Director, District Rural Development Agency for the rural area,
Wondering tribes and dissected tribes ::: Certificate of Mamlatdar Shri or Social Welfare Officer, Taluka Development Officer or Competent Authority
Orphaned child ::: Certificate of the District's Child Welfare Committee
Children from kindergarten ::: Certificate of the District's Child Welfare Committee
Children with cerebral palsy Civil Surgeon Certificate
Children with Special Needs (Divyang) Civil Surgeon's Certificate (minimum 40%)
RTE Gujarat 2020-21 Application Form Status Checking
All the applicants can check the application form status for Gujarat RTE Admission 2020-21 through the link below:-
RTE Gujarat Admission 2021-22 Online Application Form / School List / Documents / Admit Card